The Arctic Research Center, Hokkaido University (leading researcher: Associate Professor and Distinguished Researcher, Teppei Yasunari) and Weathernews, Inc. have concluded an agreement on "student human resource development and research exchange" since last fiscal year (FY2022).
Through this collaboration, our faculty members of the Center and employees of Weathernews will be jointly involved in the education of master's degree students. As a result, it will be easier for the students to participate in joint research. The student will also be able to consider a more concrete career path at Weathernews through his/her wish and the special recruitment exam and will be able to directly utilize and apply his/her master's research after joining Weathernews. We can expect to continue developing our research and actively conduct joint research that can be more easily linked to social implementation.
The collaboration is currently open to master's students joining Dr. Yasunari's laboratory in the Atmospheric-Ocean and Climate Dynamics Course in the Graduate School of Environmental Science. However, in the future, it may be expanded to include more collaborations with other full-time faculty members at the Center. Furthermore, it would also hopefully be possible to lead to the development of human resources, including recurrent education in the future at Hokkaido University, such as the acceptance of those former students who got the jobs at Weathernews or current Weathernews employees, entering to master's and doctoral programs to obtain their degrees while continuing their daily jobs.
The Center plans to continue to actively promote human resource development and research exchanges through new forms of industry-academia collaboration such as this.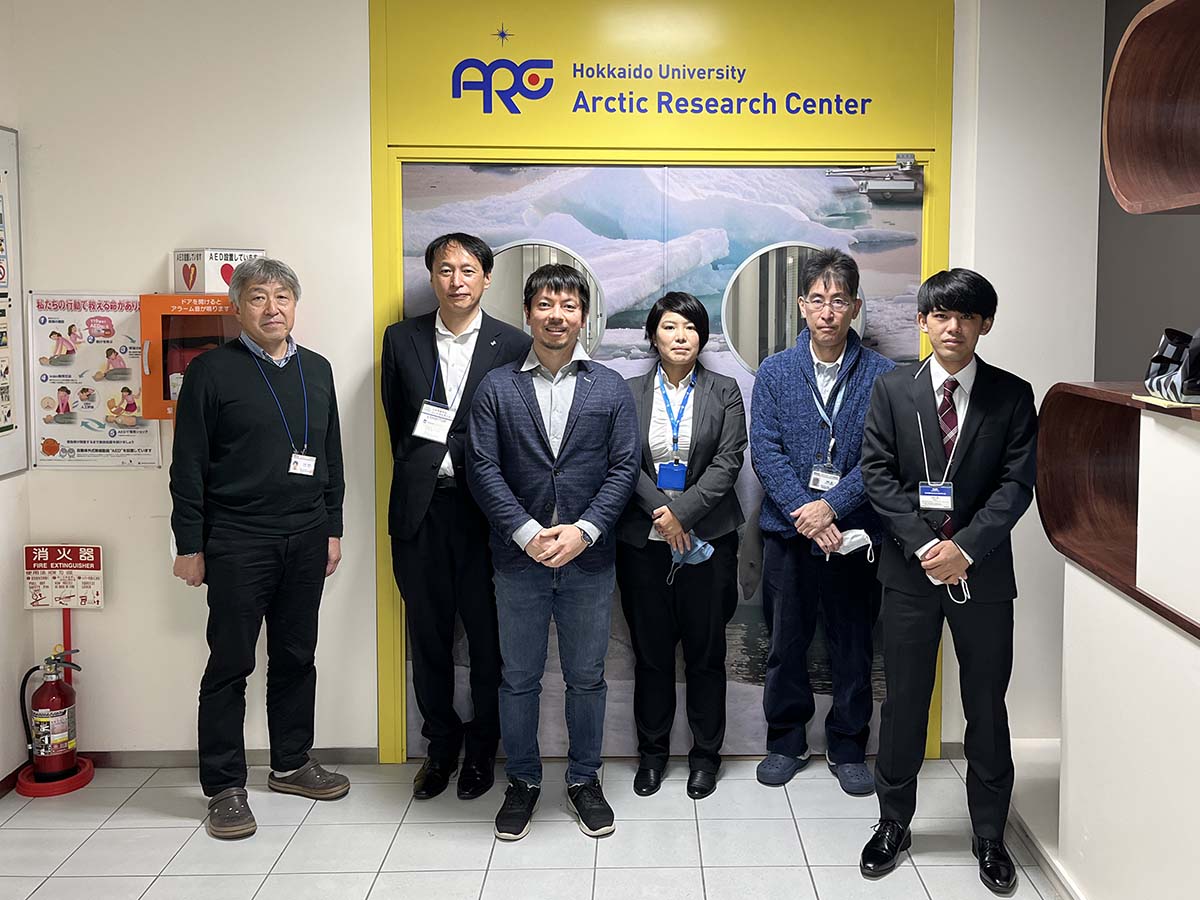 From left, ARC Vice Director & Prof. Otsuka, Managing Executive Officer Abe of Weathernews, Associate Professor & Distinguished Researcher Yasunari, Weathernews employee Ms. Yoshikawa, ARC Director & Prof. Fukamachi, and Mr. Waji, a second-year master's student at the Graduate School of Environmental Science.